Marketing Uprising
A Live Workshop for Business Owners

that Creates a Marketing Plan
that Results
in Clients.
This Workshop is Retired!
Create a 30-Day Marketing Plan that Results in Sales in Less than 60-Minutes a Month
(Bonus: you'll stick with it because it'll be so easy to implement that you won't want to hurl your laptop off the Space Needle)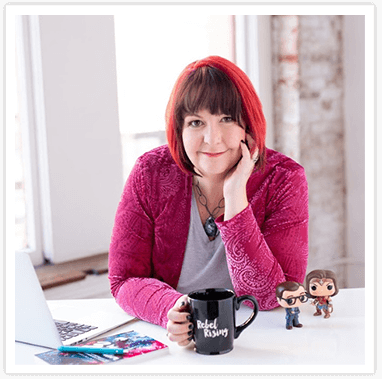 Marketing. It's the worst, right?
You spend 37-minutes writing the perfect social media post that you know that people will LOVE…
…it gets 5 likes and one comment (and that comment is from your business bestie…ouch)
 You've taken approximately 72 online courses that were supposed to teach you a strategy for selling your thing…
…you completed ZERO of them because every time you logged in negotiating peace in the Middle East seemed simpler than whatever the hell strategy that guru was teaching.
You know how EVERYONE and their cat tells you that you need to blog or podcast or create videos to get clients?
But when you do all those things, and you never get any clients. What's up with that?
You know you've got to let people know you're here. Tell 'em that you're open for business. That you're ready to welcome them as a client. You've got to market.
AND YET…
It feels like you're shouting into the void. You don't have time, energy, or headspace for any of this!
You'd much rather be working with your clients.
Playing Lego with your kiddo than writing one more "10 Easy Steps to Becoming More Productive By 3:00 am Because Sleep is for Zombies" posts.  
And most importantly you don't know how to connect any of these marketing activities to the thing that you're selling.  
Everything you try or you think about trying makes you feel like a money-hungry,  ambulance-chasing lawyer.
Here's the rebel truth:
What you need is a SIMPLE plan that gets your ideal client to open their wallets for you. They go from casual onlooker to ready to hire you yesterday.
A plan that helps you create engaging content. Content people feel compelled to respond with comments like "You're reading my mind" or " Get out of my head."
A concrete plan that you can rinse and repeat every single month in just 60-minutes.
You get to stop wasting your time on marketing and get back to doing what you love: working with clients or playing with Lego with the kiddos!
That's exactly why I created: Create a 30-Day Marketing Plan that Results in Sales in Less than 60-Minutes a Month

How to connect your marketing with your sales process so that you actually…well you know sell

Write content that engages with your audience and moves people from "who are you?" to "here take my money!" faster than ever before

Discover your unique content planning style that makes your marketing plan easy to stick to (and yes, there's a quiz that may involve Muppets).

Leave with a SIMPLE rinse and repeat system that you can use every single month (it's not going to make you want to tear out your hair).
The Specifics We'll Cover:

Discover the one dead simple question you need to ask yourself before you write any piece of content (this question is the KEY that connects your sales to marketing)

 

Map out your offerings using my easy system so that you can maximize your sales and keep your eyes on the golden ticket (that's what you're selling) each month

 

Use the Rebel ONE Method to simplify your marketing efforts (this method will tell you exactly how to focus your marketing efforts so you don't feel so overwhelmed)

 

Determine your goals, yo! Yep, there are 3…just 3 numbers you need to track to make sure marketing is on track.

 

Discover the 5 types of content that engage people who are complete strangers and figure out which type is best for your ideal audience (it's easier than you think)

 

Discover the one sentence that your unwittingly leaving out of all of your social media posts that killing engagement

 

Get my "Tell 'em What to Do, Get 'em to Yes" cheat sheet for call-to-action and dramatically increase your chances of getting a new client

 

Take the "

Which Muppet Best Describes Your Content Planning Style?

" quiz so that you'll actually create a marketing plan you'll stick with (seriously, knowing your Muppet is key)

 

Leave with The Marketing Uprising Action Plan marketing template that you'll be able to use again and again to plan your marketing every month
Workshop Details:
When: The workshop will be held over 3 sessions on 3-days: Monday, December 5th, Wednesday, December 7th, and Friday, December 9th at 10:00 am PT/1:00 pm ET. Each session is between 60-minutes to 75-minutes.
Where: Our private Zoom Room. The link will be emailed to you prior to the first session.
Space is Limited: We're capping this workshop to 30 people. Once it fills up we will consider adding more dates.
Who is it for? Rule-breaking business owners who hate marketing…specifically service providers, consultants, coaches, speakers, authors, course creators. Pretty much if you have an offer that sells, aren't showing up consistently to sell it…this workshop will work for you.


Marketing your business can feel like a soul-sucking full-time job (the one you escaped to do this business in the first place)
…but this workshop will FINALLY simplify marketing and give you an easy plan to follow. 
Space is extremely limited so grab your spot today
Working with me 1:1 to get my brain on your message and your marketing starts at $5,500 (and of course, includes your 3 Word Rebellion, client journey, lead magnet development, perfect pitch, and your whole brand message)
But you can join me for the LIVE workshop, AND you get to keep the recordings for life for just:
$195
Meet the Communication Rebel, Michelle Mazur, Ph.D.
Hi, I'm Michelle, the creator of the 3 Word Rebellion messaging framework and host of the Rebel Rising podcast. I believe communication changes the world and the right message starts a revolution.
That's what I help business owners and speakers do: change the world one-compelling message at a time.
The 3 Word Rebellion messaging framework has a 100% success rate in discovering that one-of-a-kind message that catapults your thought leadership.
Many of my clients go on to be speakers, who command $10,000 (and up) gigs, end up speaking internationally (even in front of world leaders), and are able to negotiate their highest speaking fees ever. 
ALL of my clients end up growing their businesses and/or spreading their movements faster and farther than ever.
Most importantly, they are changing their industries.

"Getting my social media ready for the week (and month) has never felt this easy or focused.

I also can finally wrap my head around how to blend social media, selling, and my 3 Word Rebellion to share with the world."

– Casey Jourdan, Business Strategist
"I had 3x the engagement on my social media post!

I loved on day 2 of the workshop, she retooled some of our social media posts to make them more effective and engaging. "

– Christine O'Neil, MMSc, PA-C, ACC Executive Coach
What if I don't need help with my marketing?



What if I really need in-depth help with my messaging? Is this workshop for me?
I'm so glad you asked that question:
What this workshop does not cover:
Creating your 3 Word Rebellion® – the one-of-a-kind message that establishes grows your business and your audience

Doing your audience research to unearth empathy point and their emotional story

Creating a custom client journey and the patented "Get to Yes" conversion strategy

Developing a framework/process/methodology for your services and offer that is

Crafting your "Why Buy" Message for Elevator Pitches, sales pages, and about page

Crafting signature stories for use in media, podcasts or speaking

Developing your lead magnet or email community builder 
If you want more 1:1 support to work on your messaging to support your marketing efforts, the 3 Word Rebellion Messaging Services is a much better fit.

The Not So Fine Print.
And here's the rest of the fine print because which I am making quite large because I always want to be completely upfront with you.
No refunds for this workshop will be granted for any reason. Space is limited for this workshop which means that if you decide to take one of these spots it's yours even if you do not attend.
Because the sessions will be recorded, you'll still learn a ton from watching this workshop several months (even years) after the workshop is over.
If you're not really sure if this workshop is right for you, please reach out to us at hello(at)drmichellemazur.com and someone will get back to you ASAP.
Finally, Create A Simple Marketing Plan that Actually Results in Sales Without It Feeling Like a Soul-Sucking Energy Vampire 
Join me for this live workshop for just $195
And mark these dates on your calendar:
Monday, December 5th at 10:00 am PT/1:00 pm ET
Wednesday, December 7th at 10:00 am PT/1:00 pm ET
Friday, December 9th at 10:00 am PT/1:00 pm ET
Each session will be between 60-75 minutes with a little extra time for Q&A
"Marketing always made me feel overwhelmed and feel like "do I have to…"


After this workshop, I feel relief that I don't need to be on every social media platform promoting my work & that interacting with others is the easiest & best way to get noticed.

I also appreciate the simplified structure you provide for blog/email posts & think that I will always refer to it when I sit down to write a new post.

– Suzanne Valeriano, Jewelry Designer
Questions?
Do I have to be at all 3 sessions? Or can I choose from 1 of the 3 dates to attend?
I'll be presenting different materials at all three sessions, so you need to watch all 3 to leave on Friday with a complete 30-day marketing plan. 
You do not, however, need to attend any or all of them live! 
If you can be there, live awesome! That way you'll be able to get your specific questions answered.
What are the dates and times again?
The workshops will take place on Zoom on the following dates:
Monday, December 5th at 10:00 am PT/1:00 pm ET

Wednesday, December 7th at 10:00 am PT/1:00 pm ET

Friday, December 9th at 10:00 am PT/1:00 pm ET
Yes, there will be replays. I'll be sending them out as soon as they are ready!
Do I need to attend live? Will there be a replay available?
You do not need to attend any of the sessions live. If you can be there, live great.  That way you'll be able to get your specific questions answered. 
Yes, there will be replays. I'll be sending them out as soon as they are ready!
 Can you guarantee that I will get excellent results from my marketing?
Nope, sorry! What I do promise is that you'll walk away from the workshop with a simplified way of marketing your business, you'll be able to create a plan that you can implement, and you'll be able to track your results so you can adjust your marketing to get results. 
What if I'm not happy with the Marketing Uprising workshop? Can I get my money back?
Because of the limited spaces in this workshop and the truly hands-on nature of this workshop, no refunds will be granted. If you have any questions about whether or not this workshop is a fit for you, reach out to me at hello(at)drmichellemazur.com. I'll give it to you straight as to whether or not this workshop is a fit for you. 
How much work will I have to do between the sessions?
Not much. Much of the work you'll be doing will be completed during the workshop. There will be one or two small assignments that I'll ask you to complete outside class time, but it should take you approximately 15-30 minutes to complete.  
What's the difference between this workshop and the Brand Message Map?
If you have the 3 Word Rebellion® Brand Message Map, bring it to the workshop because it will be a great reference for you on day #2. 
The Brand Message Map is a reference tool and this workshop will help you put that tool into action. You'll be able to use that to connect your marketing with your sales.
If you don't have the Brand Message Map, you don't need it to get the full value of the Marketing Uprising Workshop! 
What's the difference between the Marketing Uprising workshop and your 1:1 work in the 3 Word Rebellion® Messaging Intensive?
The 3 Word Rebellion® Messaging Intensive is for expert business owners who are ready to upgrade their messaging so that they can become thought leaders in their industry. While I help my 1:1 clients with their marketing (in a more in-depth and extensive way), this workshop doesn't focus on the messaging work that precedes thought leadership marketing. 
Save Your Spot in the Workshop for $195
"I appreciate how Michelle breaks the material down into bite-sized pieces over 3 days so I could chew on them in between sessions and not get overwhelmed.

Also, I had fun while I was IN the workshop, and didnt worry I was missing out on something important. It was the perfect mix of exercises and content.
.

I love how Michelle weaves in things like Peggy from Mad Men – all of the cultural references jive with my taste in media, so that's fun!"

– Heidi Taylor, Business Coach for Caring People
"I knew I needed to add marketing to my business which is currently running on referrals, but didn't know where to start and felt overwhelmed.

After Marketing Uprising, I left prepared and I knew exactly where to start. I could focus on one main social media squeeze instead of being everywhere.

– Angela Reeder, WordPress Developer & Technical Geekery Strategist