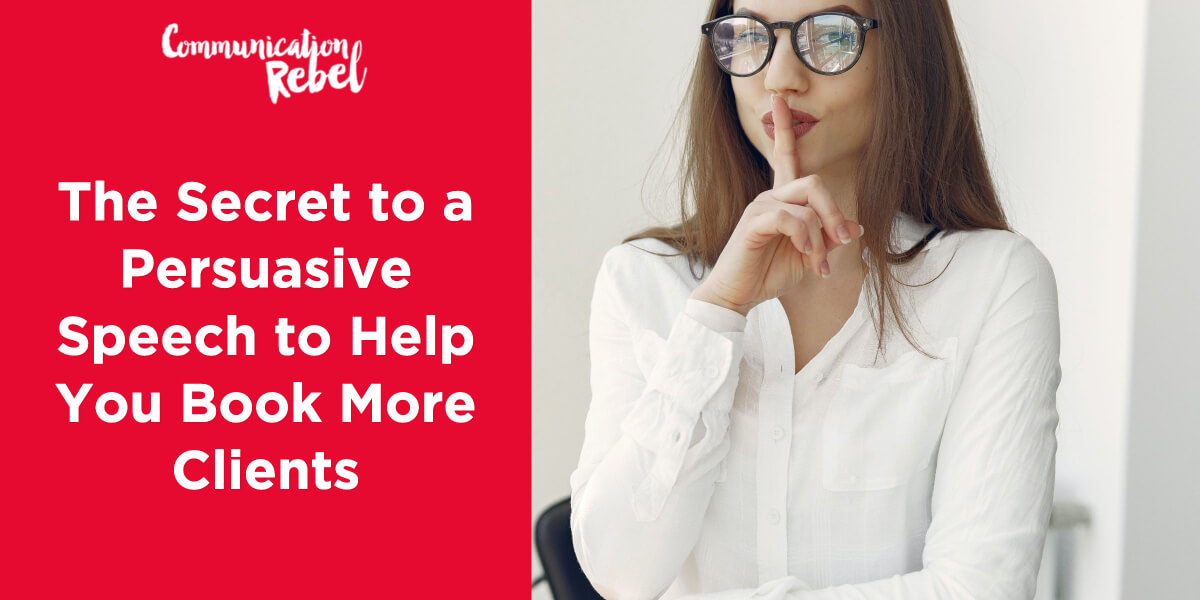 Psst. Want to know the secret to a persuasive speech that helps you land clients? It starts with a rather odd question.
What do a persuasive speech and my high school first aid class have in common?
Imagine you are walking down a crowded city street, a rush of cars going by and the smell of pollution burning your nostrils.
A smartly dressed man in his mid-40s is walking in front of you. Stops abruptly. Collapses to the ground. You drop to the ground, feel for a pulse – there is none. You start performing CPR and yell "Somebody call 911."
No one moves. No one takes out their cell phone. They just stare blankly back.
Why? Why didn't anyone do something?
Simple.  In a crowd, people believe somebody else will take action. The more people there are, the less likely one person springs into action.
In high school first-aid class, I learned that if someone is hurt and there is a crowd standing around, you point at one person and say "You call 911." You give one person the responsibility of making the call. That person knows he is on the hook. He takes out his cell phone and calls.
Why do I bring this up?
A few weeks ago, I asked you what's the most important word in any presentation? (Hint: The answer is "you")
The feedback I got on that post was overwhelmingly positive.
I also took some flack for it. Some told me that using the word "you" was too direct.  You is accusatory. The audience will think you are preachy or better than them.
Clearly some people had a problem with "you" (well really me in this case).
I was told NOT to use "you". Use "we" or "us."
I realize that "you" is terrifying. Asking directly for what you want makes you vulnerable. You might get rejected. No one wants to be rejected. You hedge. You soften your language.
However, if you use "we" or "us" you might as well address your audience as somebody. "We" increases the odds of inaction and guarantees rejection. The point of speaking is to inspire action!
"We" sucks, kills your persuasiveness, and this is why.
Who the heck is we anyway?
Who is the "we" you are referring to?
Are you referring to the "we" that is your family? The "we" that are your colleagues at work? Who is "we"? If the audience doesn't see themselves in your speech, they don't think you are talking to them.
They will not identify with ubiquitous we. When you say "we", it's easy for an audience member to say "not me".
We is patronizing
Have you ever had your doctor ask you "how are we today?"
Really, I don't know how "we" are, but I can tell you how I am, and I'm feeling a bit patronized. In speaking, "we" transform those amazing individuals in your audience into one faceless mass. "We" takes away individuality, personality and depersonalizes all of those people who showed up for your talk.
We shows that you don't care about those individuals as super awesome people.
We does not act or buy
A "we" does not take action. Individuals take action. If you want your audience to take action, you need to ask the individual person. Remember no ask – no get!
Let's say you just gave an amazing talk. The audience hung on your ever word. Then you say, "If we liked this talk, we can pick-up a copy of my book."
Not only does that sound weird – no one is going to buy the darn book.
If you don't metaphorically point at the audience and ask those 100 individual you's to do something. No one will.
You is persuasive. You is personal. You is engaging. Be brave. Let yourself be vulnerable. Ask for what you want! The we won't give it to you, but a you most certainly will.
If you want to book more clients, it simply starts by talking to one person. Use "you" instead of "we" and you'll be instantly more persuasive in your speaking.
What say you? Leave your thoughts in the comments below. (Wouldn't it had been totally lame if I asked "What say we?" Yeah, you know it would).