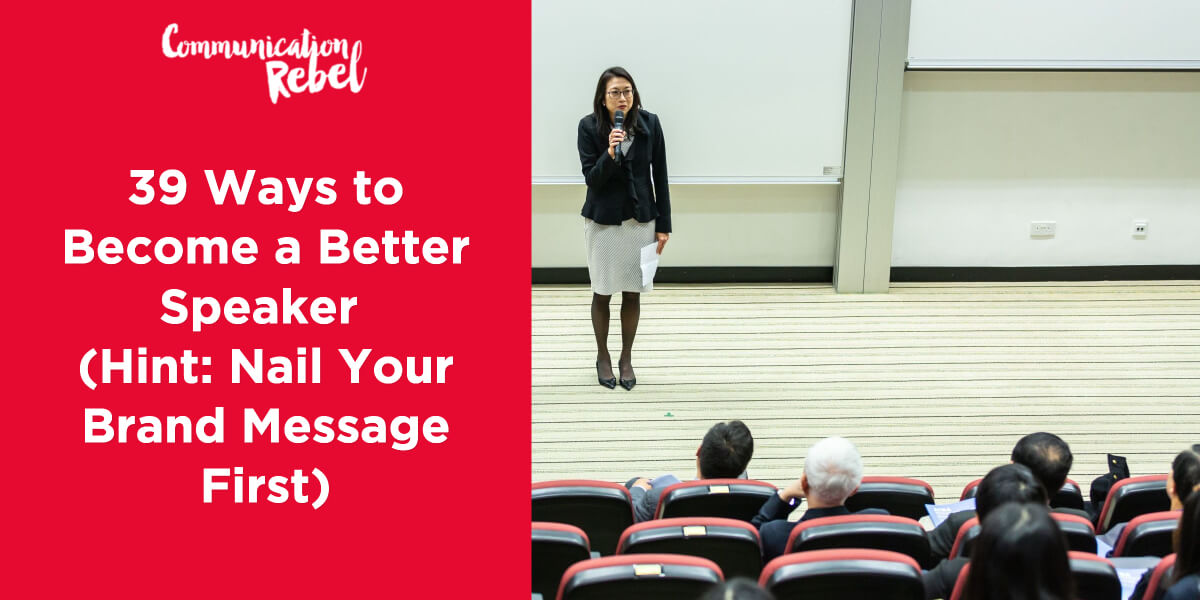 So you want to be a better speaker?
It's a silly question especially if you've been reading my blog for any length of time. My goal is to help you be a better speaker, foster a deeper connection with your audience, and give you the ability to broadcast your message to the world.
The best way to become a better speaker is to have a message, to begin with. If your business owner that what you say stage better be aligned to your brand message otherwise you are wasting your time and energy thinking it's speaking is going to result in clients.
(If you need help figuring out what the heck your message is…check out the 3 Word Rebellion).
Once you've nailed that message to take every opportunity offered you to speak. If you are in a meeting raise your hand to contribute. At a workshop, step up to the stage when they ask for a volunteer. Go to networking events and practice your presentation 30-second commercial. Say "yes" to ever presentation opportunity that comes your way.
Do this to be a better speaker:
1. Say "yes" to every opportunity to speak.
2. Focus on connecting to your audience not speaking at your audience.
3. Focus on one big idea or goal for your audience.
4. Get to know your audience before you start preparing the presentation.
5. Tell stories.
6. Work diligently on your transitions between the main points.
7. Get feedback on your speaking from everyone.
8. Realize that not all feedback is created equally.
7. Expect to be nervous before you speak.
8. Smile – audiences love it when you smile.
9. Practice, practice, and then practice some more.
10. End early – your audience will love you for it.
12. Prepare early.
13. Ask questions throughout your presentation.
14. Craft an engaging introduction.
15. Have ONE clear call to action.
16. Know your introduction cold – it's when you will be most nervous.
17. Spend as much time on your introduction as you do on your conclusion. It's what your audience will remember most.
18. Don't let your PowerPoint serve as a teleprompter.
19. Make eye contact – it says to your audience "I see you." Don't we all want to be seen?
20. Tie your conclusion in with your introduction.
21. Unbridle your enthusiasm.
22. Let your personality shine.
23. Find humor. Never add humor to your speeches.
24. Mistakes in presentations are larger in your own head than in the mind of your audience.
25. A few "umms" are not going to kill your presentation.
26. Gestures, vocal variety, rate, use of stage enhance your message.
27. Don't strive for perfection in speaking – strive for connection.
28. Remember speaking is not about you. It's about the audience.
29. Breathe before you start speaking (there's nothing worse than starting your presentation out of breath!)
30. Let your audience emotionally connect with your message not just logically connect.
31. Show up to your speaking venue early.
32. Test your technology before the presentation.
33. Have a Plan B if your tech does not work.
34. Have fun.
35. Be vulnerable – vulnerability is the key to authentic speaking.
36. Get a coach.
37. Take an improv class.
38. Your story, your message is important. Speak it!
39. Add your own suggestion in the comments.
I hope that one or more of these suggestions helped you become a better speaker. If one of these suggestions resonated with you, tell me which one did in the comments below. I look forward to reading them and reading other speaking success suggestions.