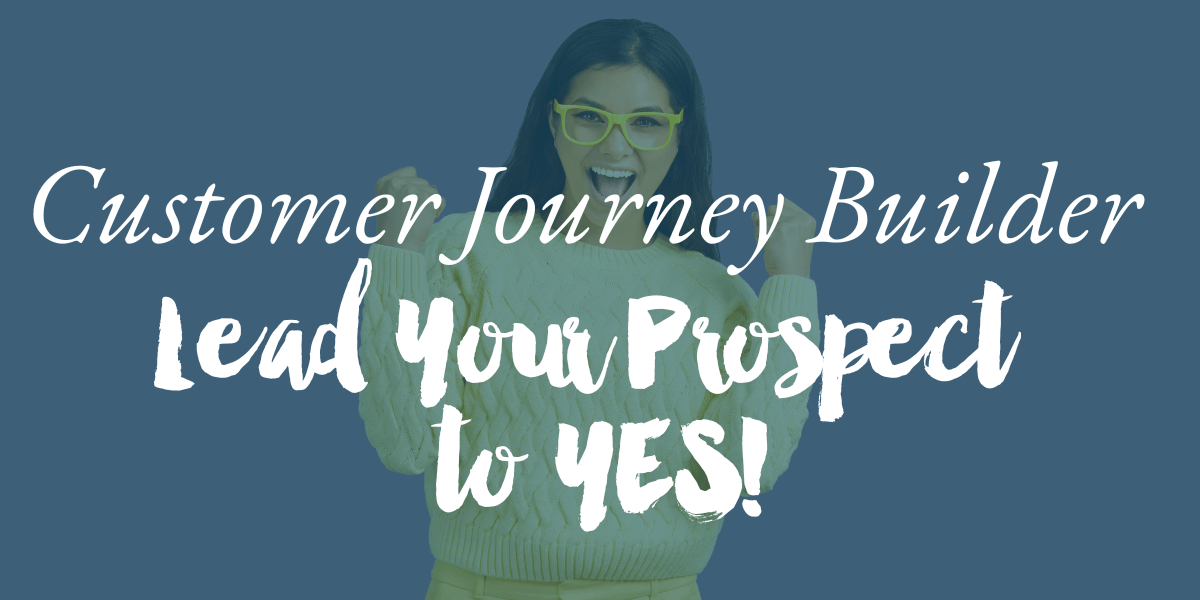 The customer journey builder is how you lead your prospect from being unaware of your business to saying yes to your work.
Once you grab someone's attention, you need to know exactly what to say to keep it and make them interested in your work.
(Not sure how to grab your right-fit client's attention? Grab yourself a copy of the 3 Word Rebellion, and create a message that stands out).
There are three essential steps to build out your customer journey and create an audience map that leads to yes.
Tune into the audio:
Step One of the Customer Journey Builder: Define the Problem & Move Your Audience Past their Resistance
When I work with clients one-on-one, I start with an audience deep dive that produces a client empathy map.
The client empathy map helps you understand your clients and what they think, feel, do, and say.
Primarily, the map helps you define and diagnose what problem your client has and how it's impacting their life or business.
That way, you can speak directly to their problem in your marketing and copy.</span.
I added a bit of a twist to the traditional client empathy map.
While it's great to know what problem your prospect has, you also need to know why people resist the change you want to create.
What blocks them from taking action? What's good about their status quo that they don't want to let go of?
Inertia is always your biggest competition. 
Because when you know why they resist change, you can empathize with them and message to that resistance in your marketing, copy, and sales. 
One way to move past resistance is to think about what your client really wants, which brings us to step two of your customer journey builder. 
Step 2: Focus Your Customer Journey on The Results Your Work Creates 
In the second step, your customer journey builder should sell the results, not the solution.
At this point in your audience map, show people what happens once they move past their resistance and solve their problem.
What selfish desire do they achieve? What change is created?
Results make your work concrete and are a big reason why people hire you! 
No result is too big or too small and should be included in your messaging work.
I frame results in terms of what is typical vs. what is possible.
What's typical for my clients?
More confident
Start marketing more and start seeing audience growth
Clients show up ready to work with them
Offers to speak show up in their inbox?
What's possible?
Booked a TedX talk
Create a waitlist of clients
Built an audience large enough to launch a group program
Landed a book deal
Paint a picture of what's typical and possible.
Step 3: Showcase Your Framework/Solution as the Final Stop on Your Customer Journey
This final step is where you show how you get the results your potential client desires. 
Before we talk about what that looks like, let's talk about what most business owners get wrong.
I'm sure you've been on a sales call, you're interested, and when they start the pitch, it's an info dump.
You feel overwhelmed by the information and think,  "I don't get it."
It's crucial to simplify what you do into a framework, model, or methodology.
Having a structure for your work breeds trust and helps people get excited about your work instead of being overwhelmed and confused.
For instance, my framework, the 3 Word Rebellion, is a model shaped like a diamond.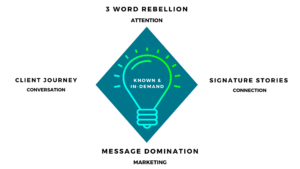 At the top point of the diamonds sits the 3 Word Rebellion.
To the left is the client journey (or customer journey), which we're talking about right now to the right are your signature stories.
Finally, at the very bottom tip of that diamond is what I call messaging domination or marketing. This is how to launch your messaging and create a marketing plan to share it consistently.  
This model shows what I do without confusing people.
It shows how to get the result without overwhelm and confusion. 
The best part of building your 3-step customer journey is that you'll generate many content ideas for your marketing.  
Then you can use these topics to share on social media, podcasts, blogs, and everywhere you want to be marketing your business.
The customer journey builder systematically guides people from being strangers into new clients.
Want Help Building Out Your Customer Journey?
If you're ready to work with me on your 3 Word Rebellion and create that customer journey so that:
Client roster fills up faster

Podcast and speaking opportunities land in your inbox

You feel more confident and show up to market consistently
Head over to my website to book a free strategy session with me to see if working together is the next right step for you.
Your 3 Word Rebellion is the starting point of your message alone. It is not enough to get the momentum you desire for your business.
The next step is creating an audience journey that gets people to say yes.